Growing up I lived very close to my schools and in Jr. High and High school there wasn't even a bus to ride home if I wanted to. Although I didn't really appreciate it at the time, this provided me with a lot of freedom and responsibility (just think of all the trouble I could have been getting into!) because whenever I didn't have an after school practice or dance, I
walked home
.
In Jr. High my route led me up the small hill past the old Tannery, past the back parking lot of Ripley & Fletchers car dealership and carefully across Rt. 26 into the McLaughlin Gardens. There I'd sneak over the back stone wall and climb up the path through the woods headed to my dead end street. I always welcomed the open gate which gave me permission to go this way, since it was infinitely nicer than taking the road.
In High School, when I wasn't scoring a ride with my friend and her brother whose best friend apparently had a crush on me, I also
walked home
. This journey started with a long trek down the main drag of Rt. 26, then across the Woolworth parking lot. A six step climb through a patch of woods lead to another parking lot, this time of the place where I had girl scouts in elementary school. Then I'd scoot up the hill past Kim Davidson's house, whose mom had been one of my troupe leaders and if I dared, cut through the McCarthy's yard. All I had to do was speedily jump their stone wall and I was safe- home- but I pretty much always chickened out.
I can safely say, I love
walking home
. When the idea occurred to me today after dropping a pal off at the Fung Wah bus station, I seized it. I decided, since it was right there, to walk home over the Manhattan bridge.
The Brooklyn Bridge, as you might imagine, is a lovely walk. It's wooden pedestrian walkway rises high above the traffic in the center of the bridge, giving you an unobstructed view of the whole shebang: lower Manhattan, upper Manhattan, Brooklyn, the
Statue of Liberty, you name it. It's stone pylons are completely awe inspiring in and of themselves. My first
walk home
over this bridge was quite transforming, in fact it inspired me to design Brooklyn Bridge Scarf for Son of Stitch N' Bitch (left).
The Manhattan Bridge, which opened in 1909, 26 years after the Brooklyn Bridge, is a different story. It's pedestrian pathway runs along the harbor side even with traffic and trains. Walking across it is gritty, loud, wobbly, distracting, desolate and dark. I highly recommend it.
As you embark on the path (see right) you have the unusual vantage point of being at the same level as the tops of nearby buildings. When on earth do you get to be outside, walking alongside the tops of buildings? You're camouflaged enough by the wire fence to really stop and gawk, taking inventory of plants on windowsills or undies drying on the fire escape. It feels like you're able to notice architectural details that might not have been paid attention to since their original construction and there's something incredibly serene about seeing a few scraggly wild grasses growing out of a chimney, with the towers of Wall Street in the background.
I stopped, for maybe fifteen minutes, to watch a flock of about sixty seagulls, circling and circling for no apparent reason. Compared to the grimy brick projects lined up as a backdrop, their creamy white bodies rivaled the unspoiled effect of an unglazed batch of porcelain. The flock would coast along, starting with huge oval loops at roof height that descended into consecutively smaller loops that took them down to street level. Hovering then, as if caught in a burst of steam from the sewer, they would wait until the last moment possible before flapping awkwardly and cycling themselves back up. Why they were doing this, creating this cyclone, I can't even begin to guess, but it was utterly mesmerizing. I admired them for quite sometime, until suddenly, all but two birds remained. Fairly quickly though, the pair decided to cast their spell elsewhere and I returned to my own migratory path.
In the middle of the bridge I had a very child like desire to throw something into the water. I just really needed to see if a small stone would make a splash or not. It would, I discovered after several tries and much smashing my face into the wire fence, in fact, make a decent splash.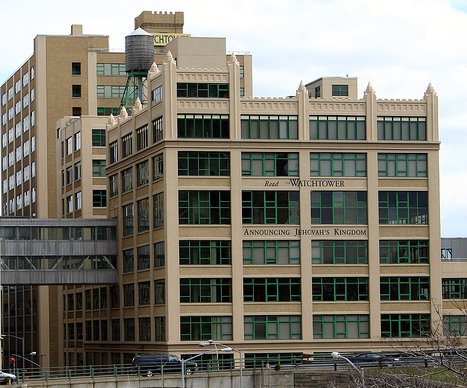 Crossing over to Brooklyn was kind of strange. The bridge practically butts up against the Watchtower complex, a series of maybe four or five ominous looking buildings with covered bridges connecting them. Apparently the Jehovah's wittness' made this area their world head quarters in 1909, the same year the Manhattan bridge opened, but this building was built in the forties. I'm not sure what the deal is here really, but from the bridge you can spy in through the widows to see row after row of numbered cases. Archives, I assume? I hope.
My path continued through the MetroTech center, where I enjoyed some interesting public art installations. My favorite was by Tony Feher, who happens to be the first artist I 'discovered' on my own, loved and excitedly wrote about in college one time. When I saw this today I didn't know it was his, yet it reminded me of him.
I continued on and reached the massive stair case of Fort Greene Park. In the disappearing light, the place seemed more like a ruin and I, alone to unearth it's treasures. It was at this point that my thought process began to change. Before I had been walking in all new territory, places I had never stepped. But once at the top of the stairs, having tickled the fringe of my home turf, it was no longer about discovery and curiosity, but of relishing. Sounds became more dear: the father encouraging his sons in their game of football, the crumble from a child peddling his plastic wheeled tricycle, the thud thud of a passing jogger. Even the constant city background hum, made up of equal parts cars, trains, sirens and the clattering of dishes and silverware, seemed comforting. From this point on it was familiar. I was
really
walking home.
On the bridge I had this awestruck pause. I gazed out at the familiar skyline, which for some reason I was obsessed with drawing as a child growing up in Maine and said "I live here. I really live here." It always kind of baffles and shocks me that I could find a sense of home in the same place as millions of other people. My epiphany in the park was similar, but the sense of home much stronger. Why? Was it the proximity to my actual place of residence? The fact that I've been there a lot more times that the Manhattan bridge? Or was it because I knew exactly what lay ahead of me?
Standing in the park I have an instinctual sense of how much time it would take to walk home. I know this because I've done it, many times, laying my migratory path so to speak. Though, I couldn't tell you how many minutes, seconds or blocks it is off the top of my head. I just know that reaching that landmark changed my sense of time internally. It makes me wonder what birds think about as their biology drives them to relocate. Do they feel a sense of excitement, like I do, when they reach a familiar landmark and know they're close? My sense of home is typically wrapped up in towels and sheets, nice showers and good cooking. It's nice to be reminded that it may be a bit more biological than that.